Bibb County Records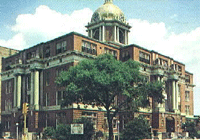 1960's photo Bibb County was created on Dec. 9, 1822 from portions of Jones, Monroe, Twiggs and Houston Counties. It was named for Dr. William Bibb, who was the first elected governor of Alabama. Dr. Bibb lived in Elbert County, and served in the U.S. House of Representatives in the U.S. Senate. He was appointed governor of the Territory of Alabama in 1816 and became the first elected governor of that state. In 1823 Macon was incorporated; named after Senator Nathaniel Macon of North Carolina. Researchers in Bibb County should also research the Jones County Records.
Records Available to Members of

Georgia Pioneers

Abstracts of Bibb County Wills
Bibb County Wills 1823-1855
Bibb County Wills 1851-1864
Digital Images of Bibb County Wills 1823 to 1840
Testators: Asbury, Jonathan; Beall, Robert Augustus; Burnett, John; Burton, Robert ;Chambless, Henry; Church, Redman; Crockett, David ;Cutland, Redden; Daniel, William; Darragh, Archibald; Dixon, Thomas ;Fluker, Baldwin; Fort, Robert; Godfrey, Francis; Harrell, Hardy ;Howard, John; Huff, Edward; Jemison, Henry ;Jeter, Andrew; Johnston, William; King, John; Lamar, Benjamin; Lanier, John; Napier, Thomas; Nixon, William; Owens, Benjamin; Rogers, William ;Sapp, Henry; Scott, John ;Sigueux, Peter ;Smith, Henry ;Smith, James ;Summerlin, Sarah ;Tharp, John; Victory, Thomas ;Weed, Joseph ;Wells, Nicholas ;Williams, John; Williams, John D.
Indexes to Probate Records
Index to Bibb County Wills and Estates (1823-1855)
Index to Bibb County Wills and Estates (1851-1871)
Index to Bibb County Wills and Estates (1870, 1891, 1914)
Index to Bibb County Wills and Estates (1891-1907)
Index to Bibb County Annual Returns (1823-1844)
Index to Bibb County Annual Returns (1843-1851)
Index to Bibb County Annual Returns (1851-1854)
Bibb County Marriages
Bibb County Marriage Book A 1831-1839
Bibb County Marriages from newspapers 1885-1886
Maps
1846 Map of Bibb County
1855 Map of Bibb County
1864 Map of Bibb County
Map of Macon, founded 1823. Bibb County.
Map of Macon, South from the Public Reserve. Bibb County
Miscellaneous Will Images
Calhoun, Elbert Estate
Chambliss, Christopher Estate
Chambliss, Henry Estate
Edmonds Estate
Gilbert, Edmund, LWT (1858)
Jemison, Robert W., minor
Johns, C. P. H. Estate
Lamar, Mrs. Mary Louisa Lamar, admx for estate of John Lamar, deceased
Lamar, John Estate
McLeod, Roderick Estate
Moore, J. G. Estate
Odum Orphans
Books
Bibb Notes by Jeannette Holland Austin
"
Find your Ancestors on Georgia Pioneers"
"
Subscribe and view documents
"