Gordon County Wills and Estates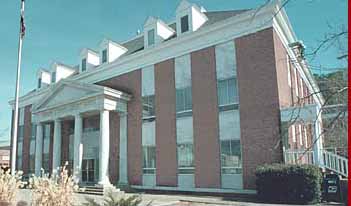 Gordon County Court House. Gordon County was created on Feb. 13, 1850 and was formed formed from portions of Cass (later renamed Bartow) and Floyd counties. All lands that would become Gordon County were originally occupied by the Cherokee Indians. Early Settlers: John Armstrong, John Atchison, John Baugh, W. N. Blalock, William J. Campbell, R. A. Donaldson, John Dobbins, T. M. Ellis, H. T. Ferguson, Frank Ford, Mountain Greason, Samuel Hurt, W. S. Johnson, W. B. Jackson, John King, B. R. Mayes, R. L. Norrell, Wiley Roberts, M. G. Scott, John Sloan, John Taylor, and W. T. Wofford.



Click on Me
Records Available to Members of Georgia Pioneers
Digital Images of Gordon County Wills
Testators: Digital Images of Gordon County Wills 1856-1894 Abbott, Elizabeth;Adcox, Wilson;Akin, Thomas;Armstrong, John H.; Atherton, Ann;Atkinson, John; Bagwell, Mary;Bailey, Amelia;Ballew, Joshua;Barrett, D. B.; Baxter, Benjamin;Bennett, A. L. ;Black, Zachariah;Blalock, W. H.; Bolding, Benjamin; Borders, Andrew;Borders, Randolph;Boston, G. W.;Bowen, Israel;Bradley, John; Burnett, Agness Terrell;Buckner, J. B.; Burch, William W.;Butler, Absalom;Byram, H. C.;Callaghan, Cornelius;Campbell, Joseph;Campfield, Rebecca;Campfield, Sarah;Campbell, W. J.;Cantrell, James A.;Chastain, John ;Daniel, Tilman;Darnell. A. J.; Dillard, William;Dobbins, John;Durham, Lavina;Dye, Margarett E.;Ferguson, John; Fite, Nancy;Fricks, Michael;Gaines, Elizabeth;Ganaway, Thomas;Garlington, Eliza; Gold, Sterling;Grant, Sarah;Grant, Tams;Gravitt, John;Greason, Mountain;Hall, Thomas;Haynes, John ; Hays, Sarah;Henson, Presley;Hood, R. D., Mrs.;Houk, H. B.;Hunt, Ann J.;Hunt, Samuel;Jackson, Edmund Calaway;Jarrett, William;Jennings, James;Johnson, James; King, William;Kinman, Wesley;Mayfield, Alexander;Miller, Ann;Miller, Jesse;Monroe, Joseph;Moss, James;Moss, Nicholas;Murphree, Modama;Nelson, Thomas S.;Niggins, Margaret;Noblet, John;Phillips, James;Pike, I. M.;Printup, Joseph J.;Putnam, Elias; Reeves, James;Rich, William;Robbins, Jeremiah;Roe, S. H.;Scott, Thomas D.;Scott, William;Sexton, Morgan;Sloan, John;Stagg, James;Strickland, Ephraim;Strickland, Sally; Swain, Jesse;Tabe, Abraham;Taylor, John;Thomas, Elizabeth;Thompson, Matthew;Tweedell, N. E. ;Veal, John;Walker, C. L.;Walker, Wells;Walker, William;Watts, Mary;Wilson, Elizabeth;Wilson, Joseph
Free Newsletter

Subscribe to 8 genealogy websites. Easy access.
Click here to take advantage
www.Hypersmash.com