Jefferson County Wills and Estates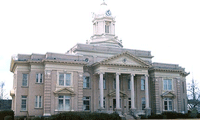 Jefferson County Court House. The territory was acquire from the Creek Land cessions of 1733 and 1788. Jefferson County was created in 1796 and named after Thomas Jefferson. Louisville was the former State Capitol of Georgia. Burke County is linked to Jefferson County research; however, Burke County records were destroyed. Earliest settlers were: Thomas Alexander, William Askew, Joseph Beatty, John Cahoon, Elisha Campbell, Elijah Grout, John Hargrove, Blassingame Harvey, William Junkin, Isaac Lamb and Edward Palmer.



Click on Me
Records Available to Members of Georgia Pioneers
Indexes to Probate Records
Will Book A.

Wills (1796-1887).

Will Book 3 (1864-1884).

Annual Returns (1815-1827).
Wills
1777-1893 (abstracts).

Deeds 1797-1799 (abstracts).

Digital Images of Wills 1796 to 1827

Testators: Alexander, Thomas; Cooper, Robert; McNeeley, Samuel; Osborne, John; Palmer, Edward; Townshend, Jacob
Miscellaneous Wills and Estates
Alexander, Thomas

Causey, Elizabeth LWT (1832)

Livingston, Joseph M., LWT (1872)

Livingston, Joseph, receipt
Free Newsletter

Subscribe to 8 genealogy websites. Easy access.
Click here to take advantage
www.Hypersmash.com