Telfair County Records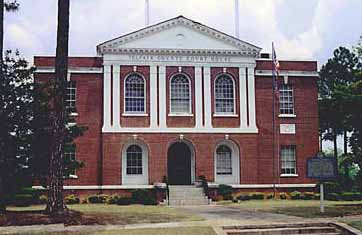 Telfair County Court House. Telfair County was created from Wilkinson County by an act of the General Assembly approved Dec. 10, 1807 and was named for former governor and congressman Edward Telfair (1735-1807). In 1812, the legislature transferred the portion of Telfair County between the Oconee and Little Ocmulgee rivers to Montgomery County. In 1819 and 1825, the legislature transferred respectively land lots 1 and 6 in Appling County to Telfair County. As a result, Telfair included land south of the Ocmulgee River until 1854 when the legislature transferred this area to Coffee County. The county seat is McRae, Georgia. Early Settlers: George Browning, Barnabus Livingston, Mitchell Wilcox.



Click on Me
Telfair County Databases Available to Members of Georgia Pioneers
Index to Telfair County Wills, Bk F, 1869-1921.

Index to Telfair County Annual Returns, 1879-1937.
Telfair County Wills 1857-1890 (Digital Images)
Testators: Bain, John;Beacham, Mark;Caldwell, Josiah;Campbell, Archibald;Campbell, Margaret;Campbell, M. M.;Clark, Wesley;Clemins, L. H.;Fussell, Jacob; Hubbard, Catharine;Jarrell, John;Johnson, Walter, Mrs.;Livingston, Barnabus;McLean, Anne;McLean, John;McRae, Duncan;Mims, Archibald; Simons, Jonathan;Smith, Alfred;Smith, Flora;Stewart, Charles; Swiney, Emiline;Webb, Crawford;Wilcox, John;Wilcox, Mitchell G.; Williamson, James
Free Newsletter

Subscribe to 8 genealogy websites. Easy access.
Click here to take advantage