Spalding County Records - is your ancestor's name here?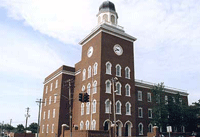 Spalding County Court House. Spalding County was created in 1851. Griffin is the county seat. Spalding County was named for Thomas Spalding from the Scottish Highlands who came to Georgia with Oglethorpe whose great-grandfather, John Mohr McIntosh, chieftain of the clan which settled Darien.

Research in Henry and Pike is indicated. Early Settlers: Elisha Akin, William Alexander, Benjamin Searcy, Thomas Simonton, William Welch, C. A. Davis, W. S. Doyal, E. H. Drewry, William Freeman, B. W. Ferrell, Lewis Flemister, Asa Miles, Joseph P. Manley.



Click on Me
Spalding County Databases Available to members of Georgia Pioneers
Spalding County Wills
Digital Images of Spalding County Wills

Testators:Akins, Elisha; Bishop, Philip; Blessit, Reason; Bridges, Corbin; Crawford, George; Davis, Janus; Edmunds, Roscoe; Ellis, William; Freeman, William; Guice, Sarah; Hill, John G. ; Jones, John R.; Kirkpatrick, Hugh; Mackey, William ; Maddox, Eleanor; Manard, Larkin; Norton, Martin; Simonton, Moses; Stark, James ;Starr, Benjamin; Strickland, Solomon ;Tarver, Mary Ann; Westmoreland, Milton; Wiggins, William

Spalding County Wills 1852-1880 (abstracts)
Indexes to Probate Records
Index to Spalding County Will Bk A 1852-1880.

Index to Spalding County Annual Returns, Appraisements, Vouchers, 1851 to 1862.

Index to Spalding County Annual Returns, Appraisements, Vouchers, 1862-1865.
Marriages
General Index to Spalding County Marriages 1852-1873
Free Newsletter

Subscribe to 8 genealogy websites. Easy access.
Click here to take advantage