Mitchell County Records on www.georgiapioneers.com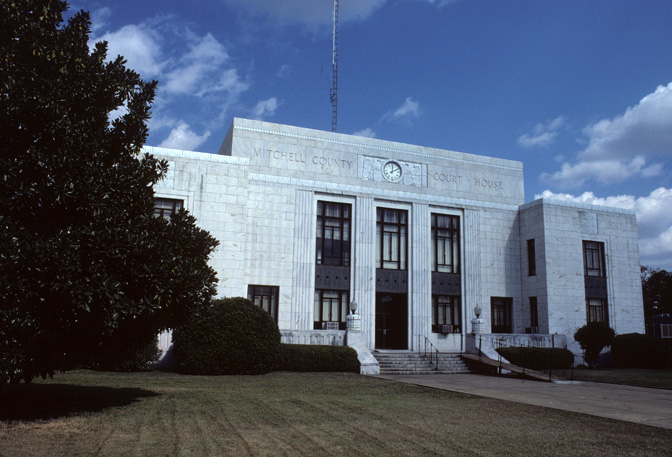 Mitchell County Court House.

Mitchell County was created in 1857 From Baker County. The county seat is Camilla, Georgia. Early Setters: Carr Smith, Henry Bacon and Elias McElvin.



Click on Me
Mitchell County Records Available to Members of Georgia Pioneers
Marriages
Index to Mitchell County Marriages 1870 to 1875

Index to Mitchell County Marriages, 1878 to 1890

Mitchell County Marriages from newspapers 1885 to 1886
Digital Images of Mitchell County Wills and Bonds 1868 to 1917
Testators: Adams, G. M. L.; Adams, Mary ;Bacon, Henry ;Bennett, T. R. ;Beverly, Nepthune ;Borders, William ;Brooks, L. A. Sr. ;Brown, James F. ;Bullard, E. T. ;Burby, George ;Cannon, Mary ;Cochran, Barsheba ;Cochran, George ;Cochran, John; Collins, E. P. ;Curry, Elizabeth ;Davidson, George ;Davis, Joshua ;Douglas, R. M. ;Evans, Nancy ;Ferrel, John ;Filey, James ;Fitzgerald, David ;Flake, R. L. ;Gaissert, John M. ;Glenn, J. P. ;Halliburton, Robert ;Hardaman, Jack ;Harrell, Jane ;Hatcher, Reuben; Hays, Richard ;Henley, William ;Holland, Ely ;Holland, Ely (2) ;Holliman, Nathaniel ;Johns, B. H. ;Johnson, D. M. ;Johnson, Mary ;Jones, James ;Lindsey, C. R. ;Ludric, George ;Luckey, Seaborn ;Mallard, George ;Martin, James;McElveen, R. D. ;McElvin, Elias ;McIlvane, Daniel ;McLeod, Andrew ;McLeod, George ;Mock, James ;Perkins, W. B. ;Phillips, Henry ;Phillips, Jimmy ;Phillips, Nettie ;Rackley, Penelope ;Ray, Rebecca ;Ronaldson, William ;Ryals, Malinda ;Sellers, Wright ;Smith, Carr ;Smith, Daniel A. ;Spence, James H. ;Spence, William ;Stripling, John ;Tucker, William ;Tyus, Lewis ;Walker, Mary ;Ward, Sarah ;Whitaker, Mary ;Willson, William
Indexes to Mitchell County Probate Records
Indexes to Probate Records

Index to Mitchell County Wills and Bonds 1868-1917
Free Newsletter

Subscribe to 8 genealogy websites. Easy access.
Click here to take advantage