Troup County Court Records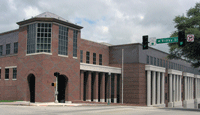 Troup County Court House. Troup County was formed from Creek land cessions of January 24, 1826 and March 31, 1826. The 1827 land lottery distributed lands in Georgia to persons residing all over the state. Be sure and research the surrounding counties of Muscogee and Talbot.
Troup County Databases Available to Members of Georgia Pioneers
Digital Images of Troup County Wills
Troup County Wills 1832-1848 (abstracts)
Troup County Wills 1834-1848 (Digital Images).


Testators: Amoss, Mauldon|Ashford, William|Barron, Joseph|Battle, Andrew|Battle, Sarah|Bledsoe, Peggy| Bull, Martha (Mrs.)|Cameron,James|Castleberry, Edward|Chivers, Henry T.|Cox, Thomas W.|Culberson, Isaac|Curtis, Robert|Daniel, Stephen|David, John W.|Davis, Jane|Dingler, Nancy|Dunn, Benjamin| Earley, Simeon R.|Edwards, Pryor|Flowers, Theophilus|Fox, Benjamin A.|Frazier, Robert|Freeman, Moses|Freeman, Robert| Gibson, Abel|Greer, John|Hale, Andrew|Ham, Benjamin|Hammond, William|Haralson, Clara (Mrs.)|Haralson, David|Haralson, Jonathan|Harper, John|Heard, John|Hendon, Andrew|Hendon, Robinson|Henry, George|Hicks, William|Hill, Green|Hill, John| Holloway, Allen|Johnson, Nicholas|Kendrick, Jane|Kendrick, John W.|Lane, Alexander|Lane, Richard|Lesley, Sarah|Leveritt, Thomas| Lewis, Nicholas|Lyle, Mathew|McCalley, James|McFarland, Sherward| McKaimee, Philip|McLendon, Jeremiah M.|Montgomery, Benjamin H.| Montgomery, Elizabeth|Moon, James S.|Moon, William|Moore, Nancy| Moss, Gabriel|Nelson, William|Osborn, William J.|Palmer, John| Payne, Mary|Pattillo, Elizabeth|Perkins, Henry|Posey, Bennett| Post, Joseph M.|Rhodes, Benjamin|Rigby, William|Rogers, Collin| Rogers, Henry|Rutledge, James|Scoggins, Millington|Spence, John| Stillwell, Jacob|Stinson, William|Traylor, W.|Traylor, Washington|Turner, Abner|Turner, Samuel P.|Veal, Reuben R.| Walker, Green R.|Walston, John|Ware, Bennett M.|Webb, John C.| Wells, George|Whatley, Archey|Wideman, Henry|Williams, Wilson| Worthey, Thomas



Digital Images of Troup County Wills 1848 to 1863


Testators: Alford, Lodowick | Allison, Margaret | Ashford, Thomas |Bacon, Thomas J.| Bassett. James| Battle, Caroline | Bays, Nathaniel |Beasly, Jarrel| Beasly, James | Bird, John| Boddy, Elizabeth |Boddy, Nathan| Bradford, Robert| Brooks, John| Broome, Charles W.| Broome, Henrietta| Broome, Rufus| Brown, John| Browning, Hugh| Caldwell, Elizabeth| Cameron, James| Cameron, Thomas| Cartright, John| Chambliss, Matilda |Christian, Jane |Cofield, Green| Cook, Beverly| Cook, Marthy |Cohen, Lewin| Croft, George |Dix, James| Edwards, Andrew| Ferrell, Micklebury| Fincher, Isaac| Flowers, William P.| Floyd, Thomas| Formly, Sarah| Freeman, James| Glass, Mary| Glaze, John| Gorham, Henry| Goss, Jesse| Griffin, Charles H.| Hall, Robert\ Hall, Young\ Haralson, Hugh\ Harralson, Jonathan A.| Harris, Clara| Harris, Mary R.| Heard, George| Heard, John A.| Hearn, Lewis H.| Henderson, David| Herndon, John P.| Hester, Thomas| Hill, Edward Young| Hill, Elizabeth |Hill, Sarah| Hill, Sarah |Frances |Hines, Thomas |Hogan, William| Holloway, Anthony |Hopson, Sarah |Horton, Jeremiah| Hudson, Rowland| Hudson, Susan| Hudson, Susan (2) | Jones, Thomas J|. Johnson, Jesse| Lesley, Jonathan| Lewis, Charity| Loftin, James| Mallory, William| Martin, Samuel Adolphus| Matthis, Mary| McGehee, Robert| McKee, John |Mobley, William |Moore, William H.| Moseley, Malcolm| Mooty, John Sr.| Newton, Ebenezer |Norwood, Daniel| O'Neal, James |Palmer, Isaac Oslin| Pentecost, Mary |Perry, John| Phillips, Hardy| Phillips, Jeremiah| Post, Elizabeth |Potts, James |Poythress, Joseph |Poythress, Mary| Ragland, Reubin| Ragland, Robert |Richards, William |Rogers, Sarah| Roswell, Demsey| Rowland, Elizabeth| Russell, Catharine |Sample, Jane| Sanders, John| Scogin, Gilum| Shank, John |Sledge, Mins| Sledge, Sam| Smedley, Thomas| Speer, Alexander| Stephens, John S.| Stephens, Martha| Stinson, John |Sturdivant, Joel| Swanson, James| Swill, Samuel| Talley, Elkanah| Tarver, Nancy| Thomas, George W.| Thomas, John C.| Thomason, Valvay| Thrash, George A.| Towns, James H. |Traylor, John C.| Tremble, John| Truitt, Nathan Sr.| Tucker, Mary Ann| Walker, Lettice| Walston, Henry| Watts, Mary A|. White, William M.| Wilder, James |Wilkinson, John |Wilkes, William |Williams, Elisha

Digital Images of Miscellaneous Deeds



David Smith to Meriman Harman
Michael Feagin to Thomas Dark


Indexes to Probate Records

Index to Troup County Inventories, Appraisements, Returns, Sales, Divisions, 1836-1839
Index to Troup County Inventories and Sales, Book U, 1861-1862
Index to Troup County Inventories and Sales, Book 5, 1862-1864
Index to Troup County Inventories and Sales, Book 6, 1864-1871
Index to Troup County Inventories and Sales, Book 7, 1866-1868
Index to Troup County Inventories and Sales, Book 8, 1869-1871
Index to Troup County Inventories and Sales, Book 9, 1871-1875
Index to Troup County Inventories and Sales, Book 10, 1875-1878
Index to Troup County Sale Bills, Appraisements, Vol. 2, 1877-1888
Index to Troup County Will Book B, 1848 to 1862

Maps


Marriages



Index to Troup County Marriages 1828 to 1837
Index to Troup County Marriages 1837 to 1844
Index to Troup County Marriage Licenses 1844 to 1858
Troup County Marriages from newspapers 1885-1886
Free Newsletter

Subscribe to 8 genealogy websites. Easy access.
Click here to take advantage