Glascock County Wills and Estates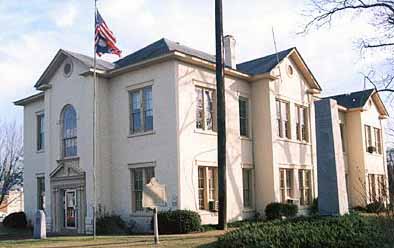 Glascock County Court House. Glasock County was created from Warren County on December 19, 1857 by an act of the General Assembly (Georgia Laws 1857, page 35). The county was named for General Thomas Glascock (1790-1841), who fought in the War of 1812 and Seminole War; served in the Georgia General Assembly and Congress. County Seat is Gibson.
Early settlers: George W. Allen, Richard Beckworth, Martiller Braddy, Richard Clark, G. C. Dixon, W. T. Griffin, Henry Harris, Eli Harris, John Kent, Joel Landrum, William Marsh, California Newsome, Robert McNair, James Rabun, Isom Peebles, Henry Seals, Hiram Thigpen, Peter Usry, W. T. Underwood, Richard Walen and Larkin Wilcher.
Glascock County Records Available to Members of Georgia Pioneers
Indexes to Glascock County Probate Records
Index to Glascock County Will Bk A 1859-1937.
Index to Glascock County Will Bk B 1932-1966.
Index to Glascock County Annual Returns, Inventories, Sales, Vouchers, Estates, 1864 to 1869
Index to Glascock County Annual Returns, Inventories, Sales, Vouchers, Estates, 1869 to 1881
Index to Glascock County Annual Returns, Inventories, Sales, Vouchers, Estates, 1897 to 1906
Digital Images of Glascock County Wills 1859 to 1900
Index to Testators: -- Allen, George W. | Barton, Martha J. | Chalker, Hodge | Cheely, John | Allen, Clark, Richard N. | Dickson, Bynam | Dixon, G. C. | Dixon, Purtiman | Glover, Seaborn | Grizzard, Thomas | Hadden, Thomas H. | Hannah, J. F. | Harden, J. D. | Harris, Henry P. | Harris, Joday | Hart, Samuel | Hattaway, John W. | Hewett, Matthew | Howell, Maberry | Kelley, Allen | Kent, John | Land, John | Landrum, Joel | Logue, Calvin | Logan, William | Newsom, Marian | Newsome, California | Nunn, James M. | Rabun, James | Seals, Henry B. | Thigpen, Hiram | Thompson, Nathaniel | Todd, Eleany | Towner, Walter | Ursy, Peter | Ursy, Peter | Ursy, R. L. | Walden, Richard | Wilcher, Jeremiah | Wilcher, Ruth | Wilcher, Larkin | Williams, James M. |
Subscribe to Lost Generations and stay informed
Free Newsletter
Become a member of the Pioneer Families Community, and enjoy the benefits of a network of genealogy experts: including access to all eight websites, books written by renowned Georgia genealogist Jeannette Holland Austin, and personal help with your research for any family in GA, NC, SC, or VA. A full year of membership with all these benefits for less than $13 a month, compared with up to $45 a month at ancestry.com
GeorgiaPioneers.com
KentuckyPioneers.com
NorthCarolinaPioneers.com
SouthCarolinaPioneers.net
VirginiaPioneers.net
Genealogy-Books.com
GaGraduates.com (Graduates database from ca 1830 to 1925)
SoutheasternGenealogy.com (Digitized Wills in counties of: Carter 1794-1830; Jefferson 1802-1810;Johnson 1839-1900;Unicoi 1878-1887; Washington 1779-1800)
SAVE MONEY! Click on Annual Membership button - $150.00 for one year.
Subscribe