Rockdale County Wills and Estates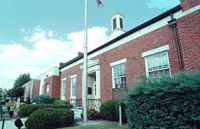 Rockdale County Court House. Rockdale County was created by the Georgia General Assembly on October 18, 1870 and taken out of Henry and Newton Counties. The new county was named for Rockdale Church which had been named for rock, mostly granite, that ran throughout the county. Conyers is the county seat. Research in Gwinnett, Henry, Newton and Walton Counties is indicated. Will Book A was lost. The first will book begins in 1914.

Click on Me
Rockdale County Records Available to Members of Georgia Pioneers
Digital Images of Rockdale County Wills
Rockdale County Wills (Book A) 1870 to 1880


Testators: Albert, John Sr. ; Albert, Nancy ;Baker, Thomas ;Bryan, Samuel Wesley ;Cooper, James ;Churchill, John ;Dodson, William ;Farmer, Robert ;Giger, Sarah ;Greer, Gilbert; Hudson, W. J. ;Lord, Archibald ;Mann, Moses ;McClung, David ;McCollum, James ;McCollum, John ;Ray, B. H. ;Reagin, Gibson ;Stansell, Joel ;Stephens, Henry; Veal, Anderson ;Veal, Anderson C. ;White, Susan ;Williams, Wesley ;Wilson, James; Wingate, William

Rockdale County Will Bk B 1914-1923 (Digital Images).

Testators: Testators: Allen, Sallie A., Mrs. ; Almond,, J. T.; Almond, John F.; Almond, Robert M.; Asken, Joseph; Bailey, Anna; Baker, W. J.; Belcher, Elisha; Black, James P.; Black, S. T.; Boyd, R. A., Mrs.; Bradford, M. A.; Brooks Margret N. A.; Brooks, T. V.; Brown, R. E.; Butler, Josephine; Camp, William N.; Chandler, Francis M.; Chandler, T. S. ; Christian, Francis Bartow; Cook, E. F.; Cooper, James G. ; Corley, Chaney M.; Cowan, George V. ; Cowan, Mary O.; Creed, Permelia A.; Daniel, Emma King ; Day, John M.; Day, T. J.; Dennard, J. D.; Dennard, Sanford L.; Elbert, William W. J. ; Ellington, J. R. ; Elliott, Thomas A.; Erwin, J. R. ; Farmer, Alex S. Farmer, J. C.; Gleaton, Fannie S., Mrs. ; Graham, B. S.; Granada, B. C. ; Granada, J. S.; Granger, Charity E., Mrs. ; Gunn, H. C.; Hames, Eleon Swanson, Mrs. ; Haralson, Mary A.; Harden, W. T. ; Haynes, Mable, Mrs. ; Hill, G. W. ; Holifield, W. M. Huff, Roland L. ; Hull, G. H., Mrs.; Johnson, James W. ; Johnson, John W. ; King, Annis W. ; King, W. L.; Langford, J. F. ; Love, James S. ; Mann, John G. ; McDaniel, W. F., Mrs.; McDanniel, Fannie, Mrs. ; McElroy, Sarah A.; McElvaney, A. M. ; Miner, E. P. ; Miner, Madera; Mitchell, George C. ; Mize, J. Wesley ; Monroe, Francis M.: Moore, H. A., Mrs. ; Morris, Sarah E., Mrs. ; Newton, Mary Alice; Overbay, Clark McCaller; Owens, W. L., Sr. ; Parker, J. H. ; Patrick, James A. ; Peek, A. H. ; Peek, W. L.; Pittman, Sarah C., Mrs. ; Pressley, Lige ; Quigg, Sarah A., Mrs.; Reagen, Cora Gwinn; Reynolds, Sarah J. ; Rowan, J. Will ; Scarborogh, Robert L.; Sharp, L. A.; Sims, A. T. ; Smith, M. R., Mrs.; Smith, Sarah C. ; Stansell, J. J. ; Stephenson, Josiah; Stewart, Mary Ellis ; Stowers, John; Suddeth, Daniel; Swords, Charles M. ; Thompson, John S. ; Thrasher, T. T. ; Turner, Ellen, Mrs. ; Turner, Malinda ; Underwood, H. L.; Underwood, Sarah A.; Vaughan, Robert B. ; Veal, Cella Merrill, Mrs.; Wade, Annie Lee ; Walker, G. W. ; Wallace, Elizabeth F. ; Wallace, W. U. ; Wallis, John F. ;Weaver, George W. ; White, Hugh L., Mrs.; White, Savannah S. ; Williams Sarah A. ; Wood, Emma Riley, Mrs. ; Wood, M. L., Mrs. ; Woods, S. H.

Probate Records

Index to Rockdale County Will Book A (1870-1916)
Index to Rockdale County Will Book B (1914-1923)
Index to Rockdale County Inventories and Estates 1897 to 1938
Index to Rockdale County Annual Returns, Sales, Vouchers 1876-1883
Index to Rockdale County Annual Returns, Sales, Vouchers 1883-1891

Marriages

Index to Rockdale County Marriages 1876-1909
Rockdale County Marriages from newspapers 1885-1886
Free Newsletter
Become a member of the Pioneer Families Community, and enjoy the benefits of a network of genealogy experts: including access to all eight websites, books written by renowned Georgia genealogist Jeannette Holland Austin, and personal help with your research for any family in GA, NC, SC, or VA. A full year of membership with all these benefits for less than $13 a month, compared with up to $45 a month at ancestry.com
GeorgiaPioneers.com
KentuckyPioneers.com
NorthCarolinaPioneers.com
SouthCarolinaPioneers.net
VirginiaPioneers.net
Genealogy-Books.com
GaGraduates.com (Graduates database from ca 1830 to 1925)
SoutheasternGenealogy.com (Digitized Wills in counties of: Carter 1794-1830; Jefferson 1802-1810;Johnson 1839-1900;Unicoi 1878-1887; Washington 1779-1800)
SAVE MONEY! Click on Annual Membership button - $150.00 for one year.
Subscribe