Beaufort County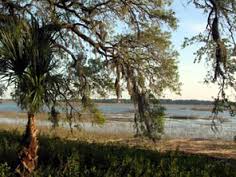 Beaufort County was formed in 1769 from the parishes of Prince William, St. Luke, St. Peter and St. Helena. The county and county seat were named for Sir Henry Somerset, Duke of Beaufort (1684-1714), one of the Lords Proprietors of Carolina. French explorers first visited this area long with the English arriving in 1562 to establish a fort. Later, in 1566, the Spanish established a temporary fort on this site The town of Beaufort was founded in 1710 and is the second oldest town in South Carolina. It was visited by pirates, including Blackbeard who is thought to have hidden some of his treasure nearby. Large and rice and sea island cotton plantations later enhanced its economy. During the War Between the States, Federal troops occupied Beaufort in December 1861.
Among the earliest settlers were: Alexander Garden (ca. 1730-1791), Stephen Elliott (1771-1830) and Robert Smalls (1839-1915).
Probate Records Available to members of
South Carolina Pioneers
Deloach, Jesse, 1785 Land Grant
Deloach, Jesse, 1785 plat
Goette, Henry, distribution of slaves. Bond of David Horton (1 Feb 1841)
Lawton, Sarah LWT 1832
Lawton, Joseph LWT
Nielson, Nicholas of Hilton Head Island, LWT
Free Newsletter
Become a member of the Pioneer Families Community, and enjoy the benefits of a network of genealogy experts: including access to all eight websites, books written by renowned Georgia genealogist Jeannette Holland Austin, and personal help with your research for any family in GA, NC, SC, or VA. A full year of membership with all these benefits for less than $13 a month, compared with up to $45 a month at ancestry.com
GeorgiaPioneers.com
KentuckyPioneers.com
NorthCarolinaPioneers.com
SouthCarolinaPioneers.net
VirginiaPioneers.net
Genealogy-Books.com
GaGraduates.com (Graduates database from ca 1830 to 1925)
SoutheasternGenealogy.com (Digitized Wills in counties of: Carter 1794-1830; Jefferson 1802-1810;Johnson 1839-1900;Unicoi 1878-1887; Washington 1779-1800)
SAVE MONEY! Click on Annual Membership button - $150.00 for one year.
Subscribe