Dawson County Wills and Estates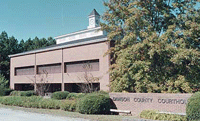 Dawson County was created in 1857 from Lumpkin County. Later a portion was taken from Gilmer County. County seat is Dawsonville. (In 1850, Calhoun was called Dawsonville before it was renamed.) The County was named for Judge William C. Dawson. Researchers should also search Lumpkin County.
Dawson County Records Available to Members of Georgia Pioneers
Dawson County Marriages
Index to Dawson County Marriages 1858 to 1883
Dawson County Wills
Dawson County Wills 1857-1862 (abstracts).
Indexes to Dawson County Probate Records
Index to Dawson County Annual Returns, Books D & E, 1835-1854.
Index to Dawson County Wills, Guardians, Administrators, Bonds, Book B, 1857-1896.
Free Research extended through Feb. 28, 2013. New subscribers to Georgia Pioneers.com will receive free genealogy help on one Georgia family. (This can be a single subscription, or bundle deal). I will work on the name submitted until the end of February, so best to get your subscription in early to receive more of my time. What you do is send the information via email to: georgiapioneers@gmail.com and I will post results as obtained to the "Working Ancestral Files" category of the Library. Login first.
Subscribe now
Share on Facebook

Tweet
Follow via email